Legal Assistance
Identity Theft Protection
Medical Savings
Let us help you make every year better than the last.
Watch Our Video for Everything You Need to Know.
The Pro Plan Member Benefits
Affordable benefits to help you when you need it most.

vs. Walmart
A customer had multiple checks forged and transacted at various Walmart stores in South Carolina, Tennessee, Georgia and Florida. In total, the customer was victimized by more than $14,000. The customer's bank refused to work to resolve the issue or provide documentation. The bank also became unresponsive and refused to refund any money to the customer. The ProPlan identity theft restoration specialists stepped in to assist the customer by initiating disputes about withdrawals from the bank and Walmart. Specialists also contacted various state and federal law enforcement agencies. After receiving a formal dispute letter explaining that it would face large civil and administrative liabilities and penalties, Walmart refunded all of the amounts from the forgeries to the customer. The case ended in a full recovery in about five months, and the customer saved $5,000 to $8,000 (based on a rate of $300.00 per hour) that they would have spent hiring an attorney to handle the recovery.

Corrina V. says:
"..new job and didn't have time to leave the office for an appointment with my doctor. I contacted The Pro Plan and a nurse immediately reviewed my symptoms. Within an hour, a licensed physician called me back to confirm and sent a prescription directly to my pharmacy. I picked it up on my way home. It was easy and didn't have to pay for an office visit!"

vs. Discover
A member had fraudulent charges on his Discover card. Our identity specialists obtained as much account information that they could from the member and filed a dispute with Discover, showing persistence and tenacity. Discover initially denied that the charges were fraudulent, and claimed that the signatures matched the signature of the customer in their records. After vigorous questioning, specialists demanded copies of the signatures and upon receipt, recommended that the customer have a handwriting expert review the documents. The customer reviewed the signatures and decided to retain an attorney to pursue the fraudulent claims using the information he had. The ProPlan specialists assisted to bring the member to a place where he was confident to seek court action. Specialists remained as key witnesses in the action if future litigation was needed.

Gene V. says:
"My primary care doc was going to be another two days and I certainly wasn't going to the ER. I felt miserable, so I called The ProPlan. After a few minutes of talking to the nice young lady, she told me a doctor would calling me back. Within 30 minutes I received a call from a doctor in my state who reviewed my infor, asked a few questions, and then prescribed an antibiotic that he sent to my local pharmacy. Very convenient money saver that goes with me wherever I go."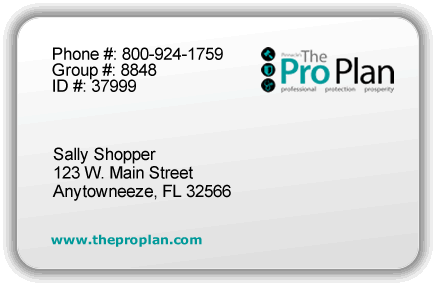 Legal Assistance: A legal plan for your entire household with free consultations and discounted hourly rates with lawyers nationwide.
Identity Theft Protection: Using proprietary algorithms, we look for any unusual activity that could indicate compromises to your identity.
Medical Savings: Access to convenient and professional health assistance anytime, anywhere. Your family is included and everyone is accepted.